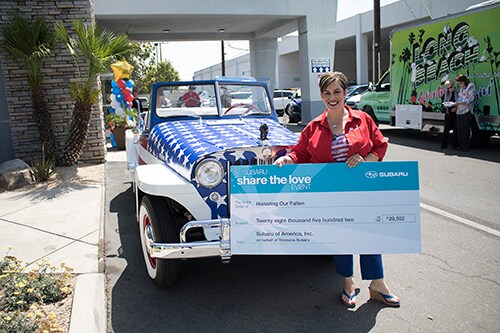 Long Beach - Timmons' Subaru donated $28,502 to the Honoring Our Fallen fund with the organizations' founder and executive director, Laura Herzog, in attendance to accept the check Friday, April 27. Laura having lost her own son in battle was accompanied by fellow Gold Star parents during the incredibly moving ceremony.
"Timmons' VW and Subaru have supported us over the last four years and it seems like every year they figure out a way to do more and we are very thankful...", said Laura.
Laura's Honoring Our Fallen foundation is dedicated to providing swift assistance to family members who have recently suffered a loss of a close loved one either as a first-responder or in battle over seas. The money donated by Timmon's Subaru will be used to provide birthday and holiday presents to the children of fallen family members, provide retreats for Gold Star mothers and wives, provide the grave sites of the fallen with a flag of the United States, as well as fund a series of grief-coping programs.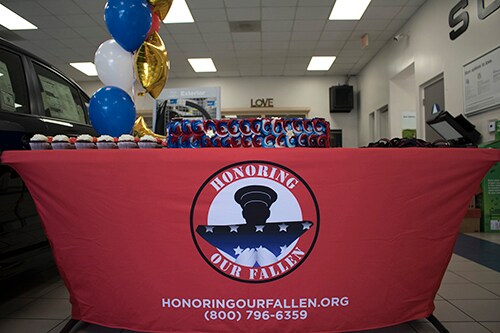 "We can't change the sacrifice and we can't take away the loss and we can't necessarily take away the grief, but what we can do is stand up to support these families as they rummage through the grief and they seek to find that new normal", said Laura to tremendous applause and stands of ovation.
Staff members of Timmons' Subaru were extremely honored to host the event, as employees shook hands and conversed with Laura and other Gold Star parents in attendance sharing stories of love and loss over a slice of frosting coated red, white, and blue chocolate cake.
Though the grief and the hardship that the honored family members of those who have paid the ultimate sacrifice have had to endure can be overcoming at times, it's truly reassuring to know that those troublesome feelings can be assuaged with communal togetherness, smiling faces, and a little Subaru Love.
To view a full gallery of photos from this event click
HERE
.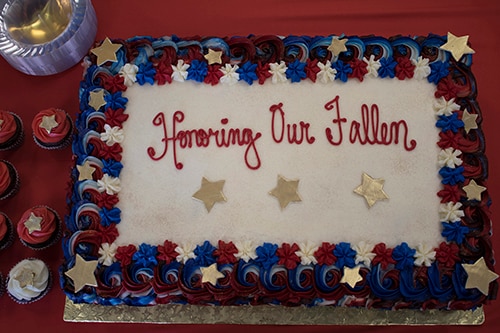 ABOUT HONORING OUR FALLEN


Honoring Our Fallen is a not for profit organization that provides support for families of our fallen military and first-responders. This organization's comprehensive support begins within 24 hours of notification by local, state, or federal officials. Honoring our Fallen immediately determines the family's needs and works as a calming force in the face of a family's time of chaos. CEO and life blood behind Honoring Our Fallen, Laura Herzog, realized there was a gap between the military requirements and the assistance needed by the families left behind. Honoring Our Fallen bridges this gap with support from the transfer of dignified remains and continues with ongoing events such as retreats for children, spouses, and parents that allow them to find support from others who are enduring the same loss.