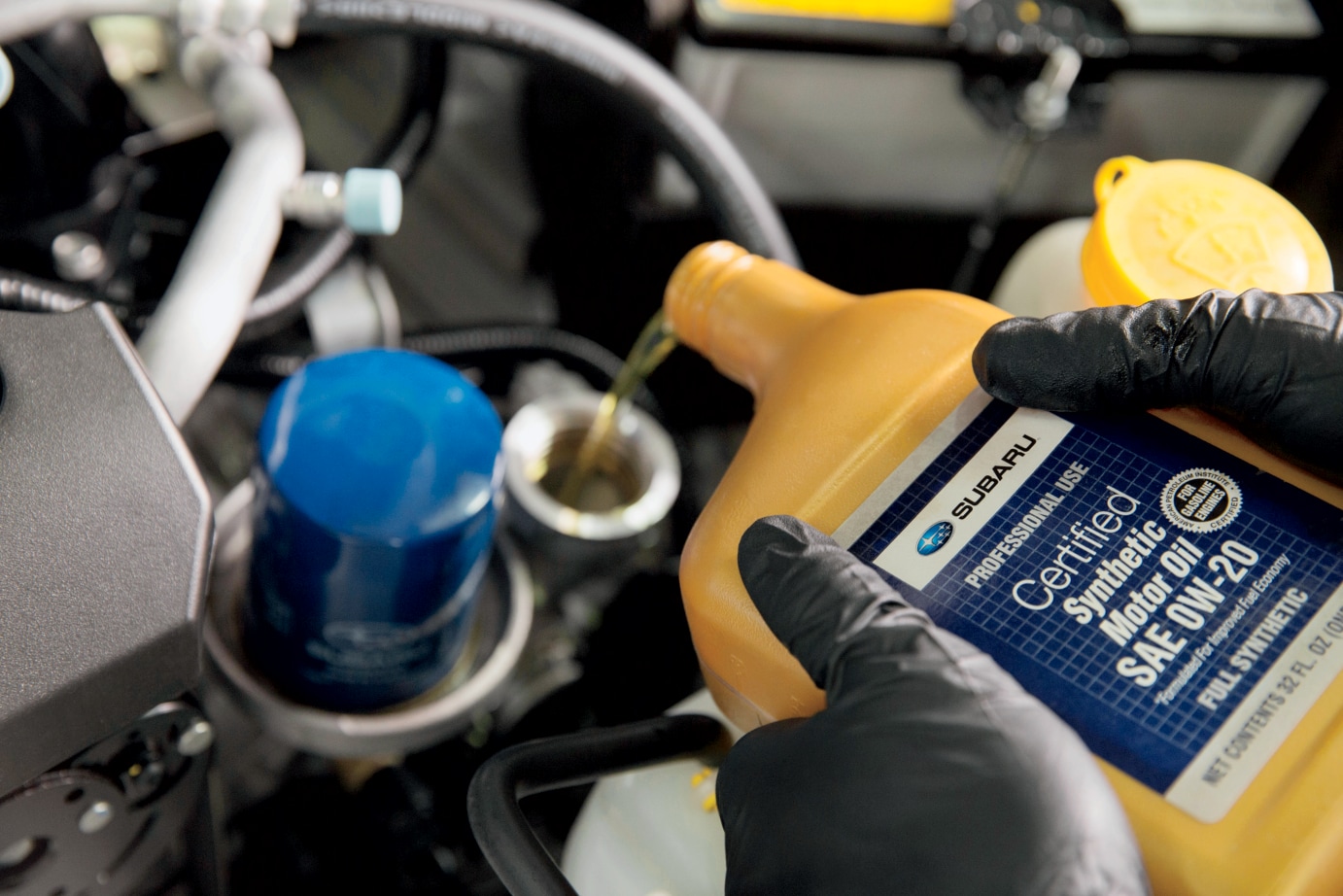 Looking to keep your Subaru in tip-top shape? Here are seven of the best maintenance tips for getting your Subaru prepped and ready for the open road!
1. Check Your Oil
Likely the most important tip of all, regularly check your vehicle's oil. Otherwise, your engine is likely to wear out much faster. Refer to your Subaru model's manual to check when to change your oil as well as what type of oil is best to use, and how much it requires for optimal results.

2. Check All Fluids
Oil isn't the only important fluid to keep an eye on. It's also essential to constantly check in with other fluids such as your power steering fluid, your brake fluid, and your coolant to make sure they're at the right level and in the best condition.
Assess the current level of power steering fluid by inserting a clean dipstick into the fluid supply, then pulling it back out to check the results. You want the result to be above the range labeled "HOT." If it isn't, fill the fluid up to the recommended line.
Next, check your brake fluid. Refer to the lines on the outside of the reservoir to make sure it's reaching the proper level. Regularly maintained brake fluid ensures that your brakes run smoothly.
Then check your coolant levels to make sure your engine stays at the right temperature at all times. Your coolant should be replaced at certain intervals. Refer to your model's manual to know what type of coolant your Subaru needs and how much it requires and how often it should be checked. If you are unsure about checking or replacing any of these fluids on your own, take your vehicle into our Service Center for assistance. We'll be happy to help!
3. Check Belts and Hoses
Inspect your Subaru's belt regularly. It should be firm, not loose and free of cracks and ruptures. Take a look at your hoses, too. Make sure they are free of bulging, cracks or any other damage. If you notice damage of any kind to your belts or hoses, take your vehicle in for servicing immediately. If performing maintenance yourself, be sure to have the engine off to prevent injury.
4. Pay Attention to Tire Pressure and Alignment
Your Subaru's wheels need to be aligned at certain intervals. Maintain proper air pressure in your tires, and refer to your manual to know what psi your tires should be at, according to your vehicle model. Any significant road damage to your tires may require a replacement.
5. Regularly Test Lights
Do regular tests to make sure brake lights, left and right indicators and headlights are functioning properly. If a light is out, its time for a replacement.

6. Do a Battery Check
While you can certainly check your battery on your own, we recommend taking your vehicle in for a professional inspection by a technician at our Service Center. Check for any corrosion and inspect cables and connectors for any looseness prior to inspection.

7. When in Doubt, Take It In
If you're ever unsure about your vehicle's maintenance, it's essential to take your vehicle in for assistance by a technician. Other concerns such as strange noises coming from your vehicle, overheating or visible signs of damage, are all good reasons to have your vehicle inspected by a professional technician.
Be sure to regularly check up on your Subaru to make sure its always running as smoothly as possible. Take Subaru maintenance into your own hands, or visit us at
Timmons Subaru
for exceptional service by one of our certified technicians at our Service Center.