Timmons Subaru Loves to Help
Prior to the onset of COVID-19, hunger was already a reality for 37 million Americans, 11 million of whom are children. As local families face the reality of sheltering in place and its associated fallout for the foreseeable future, millions more will face the very real danger of unprecedented difficulty accessing and purchasing food and an increased reliance on food banks to keep food on their tables.

---
The nation's food banks are already under tremendous strain. Donations are down. Critical volunteers are staying home. And with schools closed across the country, many children are at an even greater risk of hunger. As the brand committed to Love for over a decade, it makes sense for Subaru and our dealers to do our part and help.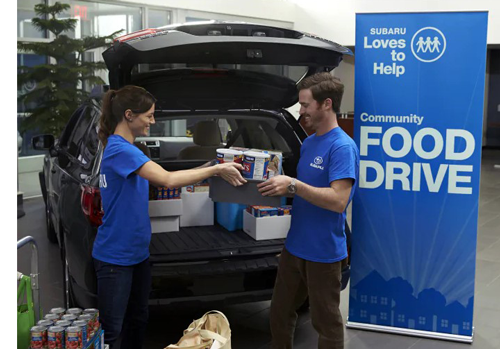 Timmons Subaru strives to serve as a positive force in our greater community, and lend a helping hand whenever and wherever we can. In that spirit, we want to help those effected by the COVID-19 pandemic and we know our ongoing support will be necessary as our local communities work to get back on their feet. Through the Subaru Love Promise, and the Subaru Loves to Help initiative to support local communities, we are proud to announce a new partnership with Feeding America. Feeding America is the nation's largest domestic hunger‐relief organization with 200 food banks nationwide, serving 60,000 food pantries across the country. Subaru's commitment is to provide 100 million meals to Feeding America. "
In these trying times we all search for stability in our daily lives
," said Thomas J. Doll, President and CEO, Subaru of America. "
We hope that through this donation to Feeding America, we can provide the comfort and stability of a meal for people who struggle with hunger in America. We must all stay safe but remember to help others where we can.
"
Timmons Subaru Long Beach is working with the Los Angeles Food Bank, right here in Los Angeles County. The Los Angeles Food Bank is committed to alleviating hunger in the Los Angeles County area by distributing food and other essentials to children, seniors, families and other individuals in need; serving more than 300,000 people every month.

Prior to the COVID-19 pandemic, an estimated 2 million people in Los Angeles County lived with food insecurity, which means 1 in 5 people who live here did not know where their next meal was coming from. Those numbers are increasing every day during these uncertain times.

LA Food Bank's vision is that no one goes hungry in Los Angeles County.
Timmons Subaru Long Beach is helping to donate 1,280,750 meals to Los Angeles Regional Food Bank! Why are we doing this?
Love, it's what makes Subaru, Subaru of course.  We do things our own way…. we make our own path.
Food donations will be accepted at Timmons Subaru Long Beach. Details to follow.

Make an Inquiry