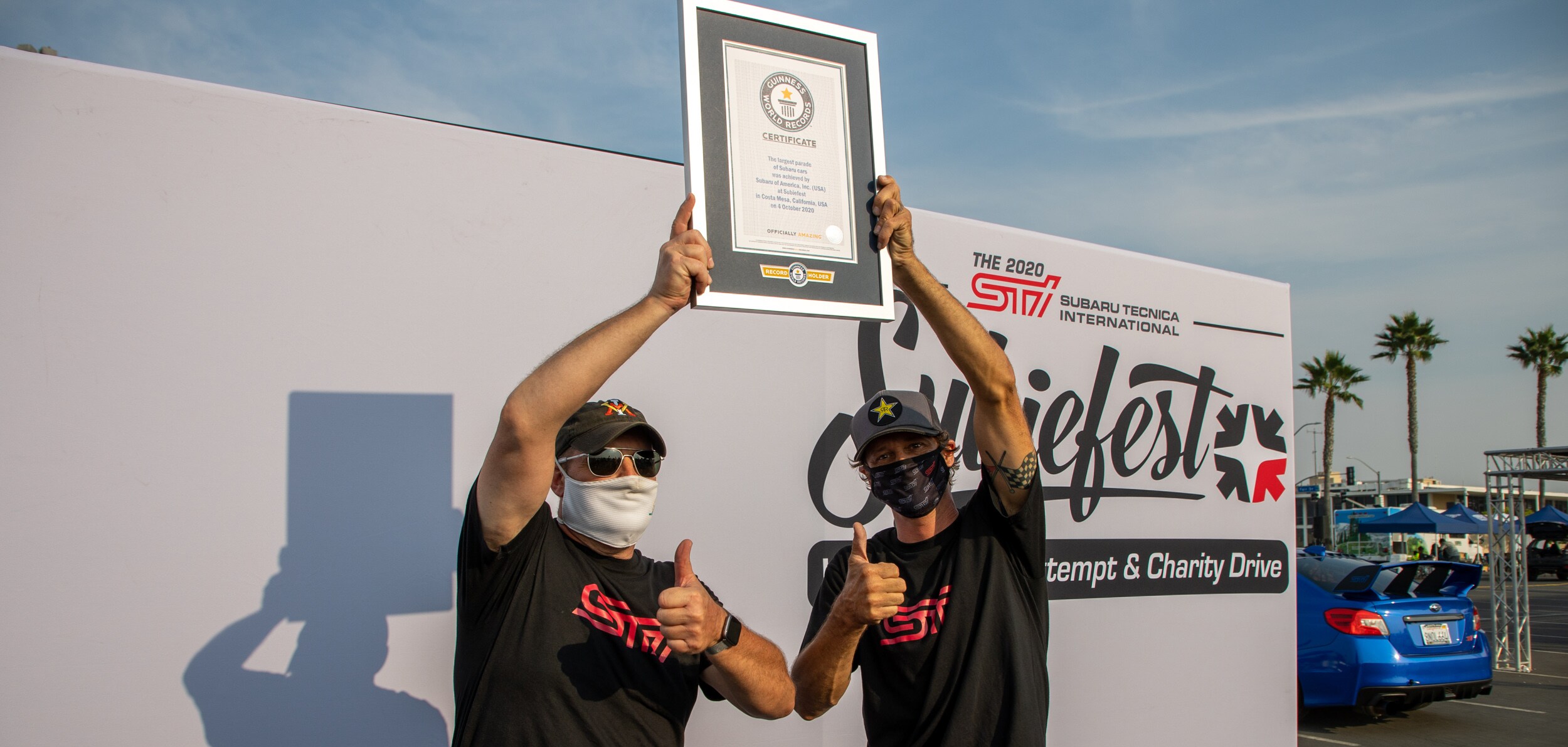 With your help, Subaru, including Timmons Subaru of Long Beach, has broken the GUINNESS WORLD RECORDS title for the
largest parade of Subaru cars
with 1,751 Subaru vehicles,
three times
as many vehicles as the previous record.
The parade, organized by the 2020 Subaru Tecnica International Subiefest, took place at the OC Fair & Expo Center in Costa Mesa, CA on Sunday, October 4. The parade spanned two miles and included 1,751 Subaru vehicles driven by Subaru owners. 
The record for largest parade of Subaru cars was previously broken in 2015 with a total of 549 vehicles.

In lieu of ticket sales this year, Subaru asked for a donation to
Feeding America
from each registration who participated in the record-attempt. The gracious donations from the participants will provide 241,800 meals. Subaru will match the donations, bringing the total number of meals to 500,000. 
Feeding America will deliver the meals to two local food banks -
Los Angeles Regional Food Bank
and
Second Harvest Orange County
.
Congratulations to all participants! We did it!

---

The 2020 Subaru Tecnica International Subiefest World Record Attempt & Charity Drive
As you know, the traditional California Subiefest that was scheduled for October 11th cannot happen this year as large in person gatherings are not permitted. But, on
October 4th
, Timmons Long Beach will be joining other Subaru lovers in changing it up and trying to break the World Record for Longest Parade of Subarus and raise money for two
Feeding America
supported food banks,
Los Angeles Regional Food Bank
and
Second Harvest Orange County
. Subaru of America is going to match every donation!
Timmons Subaru Long Beach will be a meet-up point for the parade and the 11am slot. Join us at 9:30am and we will caravan over!

Registration is a must:
Epic drive-thru displays from Subaru Tecnica International:
The largest collection of Impreza 22B STI vehicles in America
A NEVER before seen surprise
Heritage display vehicles: 2006 WRX STI Spec C Type RA-R, Colin McRae WRX, and more
The latest and greatest: 2019 WRX STI S209, 2018 WRX STI Type RA, 2019 BRZ tS, and more
Subaru Motorsports: Travis Pastrana's RX and Rally Cars, 2010 Red Bull Jump Car, and Bucky Lasek's 2013 Puma RX Car
Overland Subaru displays from Subaru of America & MtnRoo
And a photo booth for each participant's car!
How 2020 California Subiefest works:
Registration is per Subaru - bring all your friends! (please note: goody bags are one per vehicle)
To prevent a traffic jam, we'll be registering cars by the hour and limiting it to 200 cars per hour.
A minimum $5 donation to Feeding America is required to participate.
At no point are participants allowed outside of their cars while on the OC Fair property. There are no bathrooms.
Each car will receive a goody bag, placed directly in the trunk when you arrive.
If your window is open at any point, a face mask is REQUIRED.
To break the record for longest Subaru parade:

You must arrive in a Subaru. Non-Subarus can register for the 5pm slot (sorry FRS and Saabaru owners)
You must maintain a maximum distance of 30' (2 car lengths) from the car in front of you.
You must drive single file in a 2 mile long course which will include a few tight turns.
Exiting the course early is not permitted.

The total experience is expected to take up to approximately one hour.
Registration is required for California Subiefest.