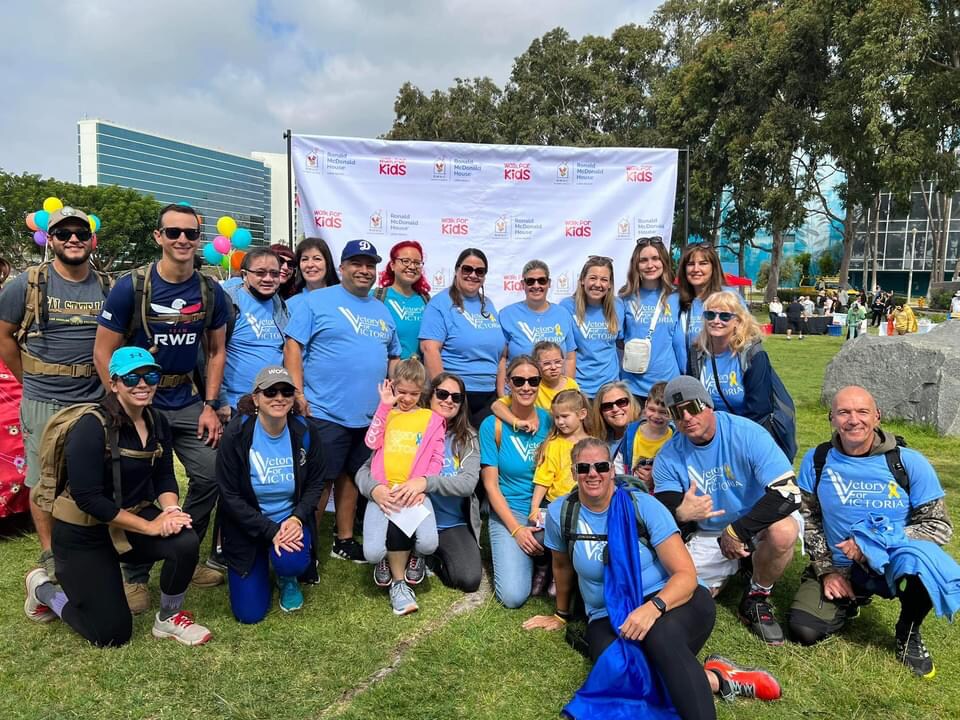 Timmons Subaru is helping every way we can to give back to our community!

"💛 Wow! Thank you to all our Victory For Victoria warriors who came out to support the Long Beach Ronald McDonald House at the 11th annual Walk For Kids event.  
For the third year in a row I have had the pleasure of sitting on the planning committee for this event.  I enjoy supporting the walk from a planning angle but nothing comes close to the joy i get from connecting with our Victory for Victoria Team each year and supporting the house as a walk team.
By the numbers, we were the 6th largest team raising nearly $4,000 with about 50 walkers hitting the pavement for another Victory Lap 💪
Without supporters like you these support services would not be able to provide the love and care needed for families with sick children.
Around this time each year our family has had our spirits lifted with Tori's annual MRI results and our "buckets filled" with this amazing opportunity to pay it forward. i feel so fortunate to be surrounded by the many friends and supporters we have in the community and grateful for the positive impact we can all make together.  
Whether you walked with us today, registered virtually, donated or even just supported from the sidelines, please know your efforts are meaningful and appreciated by many and me personally as well.
Special thanks to Laura Johnson for helping with this years team and Jonathan Byun for sponsoring our Kick Off Event.  There are too many walkers to thank individually but you know who you are and we appreciate each and every one of you.  
Big shout out to our team donors and I'd like to highlight our large donation from Timmons Subaru and our top individual donor Trevor Smith.
Sending lots of Love From our family to yours.  Keep living in Victory ✌️"
---
Walk for Kids™ is an annual fundraiser to support families receiving comfort, care and support from Ronald McDonald House Charities of Southern California.

The Long Beach Ronald McDonald House is a "home-away-from-home" for families with critically-ill children, keeping them close to one another, their doctors, and needed medical care.

It is hard to believe that our House has just celebrated 10 years since we opened our doors to our very first family! Over the past 10 years the Long Beach Ronald McDonald House has provided over 52,000 room nights and services to more than 5,400 families of critically ill children. That's greater than 20,000 people that have stayed with us in their time of need.

We feel extraordinarily blessed that we have never had to close our doors during the COVID-19 pandemic. In fact, in 2020 at the height of the pandemic, we saw our longest family stay ever at 335 nights.

Ronald McDonald House Charities of Southern California is built on the simple idea that nothing else should matter when a family is focused on the health of their child not where they can afford to stay, where they will get their next meal where they will lay their head at night to rest.

About RMHCSC
At Ronald McDonald House Charities of Southern California, they strive to help families with sick children to face their circumstances with a sense of courage and hope as they provide them with the essentials needed to endure some of the most difficult times.
At Ronald McDonald House Charities of Southern California, they express our mission through their programs, which include six
Ronald McDonald Houses
in Bakersfield, Inland Empire, Long Beach, Los Angeles, Orange County, and Pasadena. They operate two
Ronald McDonald Family Rooms
at CHOC Children's Hospital in Orange and CHOC Children's at Mission Hospital, and are developing a 
new Family Room
 in Ventura, at Ventura County Medical Center. As well as a
new Ronald McDonald House
in West Los Angeles, at UCLA/Mattel Children's Hospital. They are also one of the only Ronald McDonald House Charities chapters across the world that operates a cost-free, medically-supervised
Camp for children
with cancer and their families, Camp Ronald McDonald for Good Times. Learn More:
https://www.walkforkids.org/
---
Timmons Subaru is proud to be a sponsor of the Victory For Victoria Warriors and the Long Beach Ronald McDonald House at the annual Walk For Kids event!